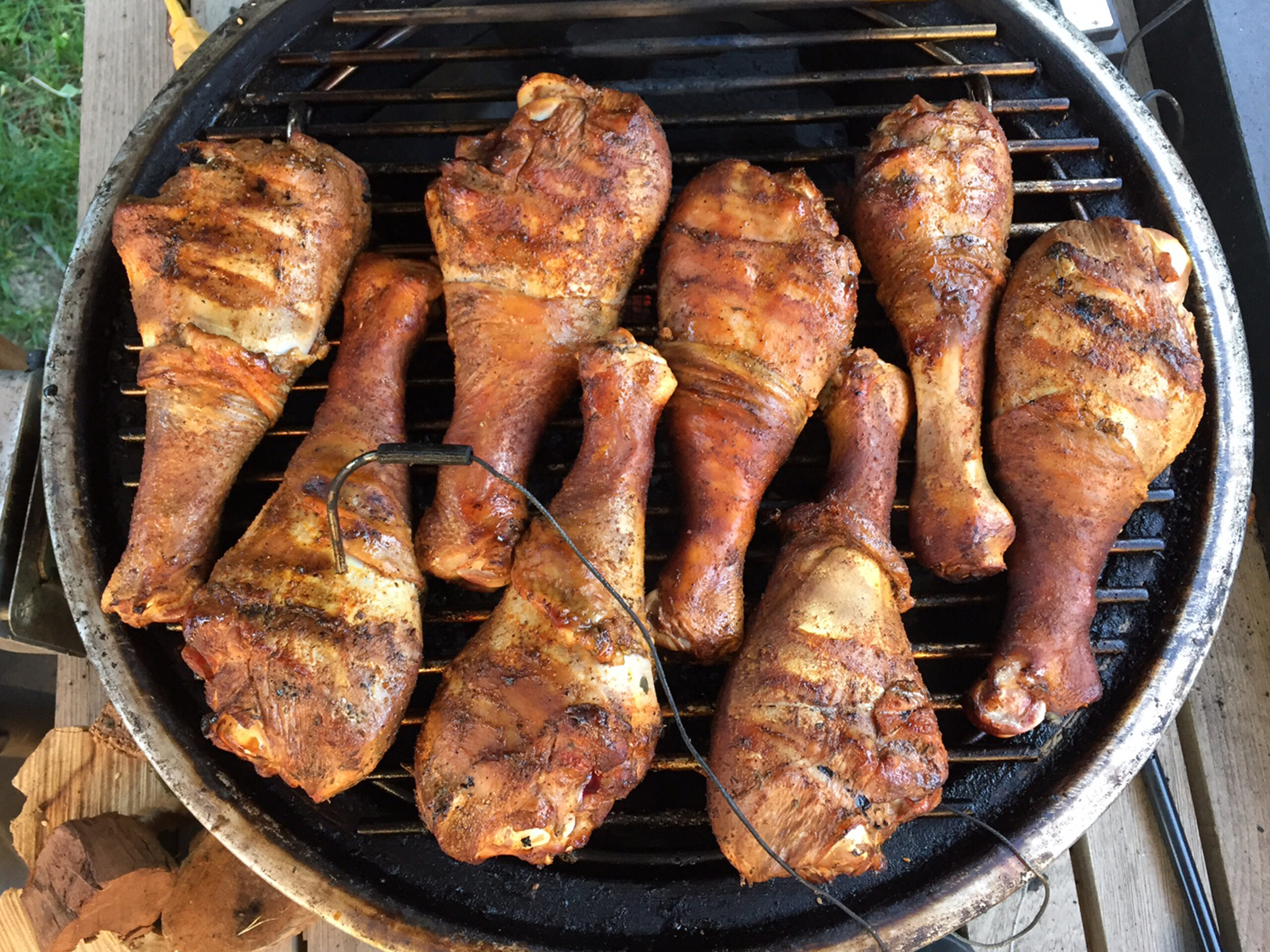 When you think of Thanksgiving, a beautiful full cooked turkey is usually what comes to mind. Why not change it up this holiday by smoking several turkey legs so your guests are not fighting over just two?
Wash and brine your turkey legs with your favorite dry brine, preferably one day before. Rinse the brine from the legs a few hours before, and loosen the skin of the legs by running your fingers under it as far as possible without tearing it. If you prefer more flavoring, feel free to add a dry rub on the legs, or just salt and pepper before putting them on the smoker.
Prepare the Caliber Pro Kamado Smoker by filling the blaze basket accessory with lump charcoal. The basket should sit on the charcoal plate at the rear of the smoker with the hinged part of the grate above it so you can access it. Bring the temperature of the smoker up to 220ºF and once the temperature has settled, place your turkey legs directly on the grate. Now add a small handful of apple and pecan smoking chips to the blaze basket and close the lid. The smoker will "smoke" for the first 30-60 minutes of the 3-4 hour cooking process. After this time, there should be "clean" heat exiting the top vent. Too much time with "smoke" may impart a bitter taste into your turkey. The meat is cooked when a thermometer probed into the turkey leg reaches 165ºF. Enjoy the amazing juicy and smoky flavor you get from the Caliber Pro Kamado.
Ingredients:
6-8 Turkey legs
Your favorite dry brine and/or dry rub
Apple and pecan smoking chips
Mesquite lump charcoal
For the recipe on how to smoke a full turkey on the Caliber Pro Kamado click here.