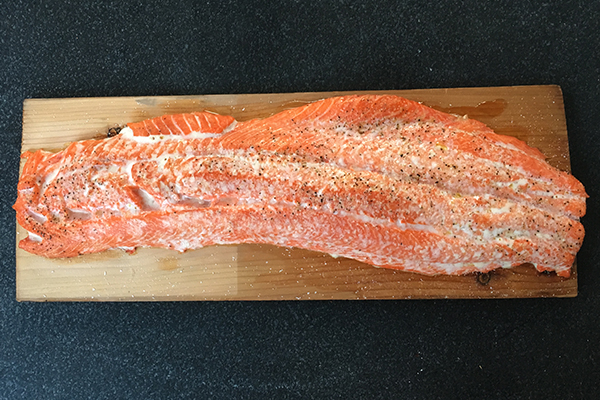 Prepare the Caliber Pro Kamado Smoker by filling the blaze basket accessory with lump charcoal. The basket should sit on the charcoal plate at the rear of the smoker with the hinged part of the grate above it so you can access it. Bring the temperature of the smoker up to 325ºF.
Remove any bones or skin from the salmon filet. Rinse the cedar plank and place it on the grill for 3-4 minutes to bring out the cedar aroma. Brush the plank with olive oil. Place the salmon filet on the plank and brush it with olive oil. Squeeze two lemon wedges over the salmon and sprinkle it with salt, pepper, and dill (optional). Put the plank with salmon on the grill and cook for 15-20 minutes. It is ready when the internal temperature of salmon reaches 135ºF. Enjoy this healthy and delicious entrée.
Ingredients :
Lump charcoal
1-2 cedar planks
2-3 pounds salmon
Olive oil
Fresh lemon wedges
Salt
Pepper
Dill (optional)
Chef Marcel's of the Netherlands recipe of salmon smoked with Cedar on the Caliber Pro Kamado.
For the video of smoking cedar plank salmon on your Caliber Pro Kamado grill see below:
For the video of an Asian cedar plank salmon on your Rockwell grill with Sam the Cooking Guy see below:
For more recipes, join Caliber Culinary Corner's monthly e-news