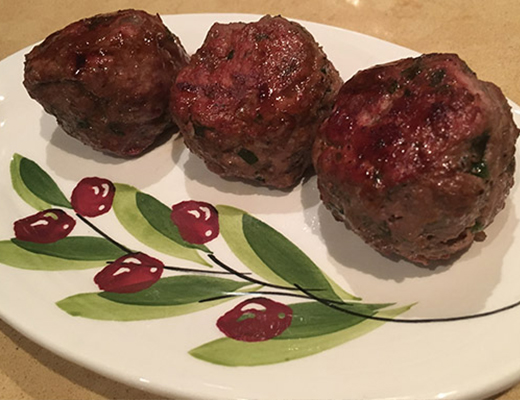 Holiday Lamb Meatballs
Looking for a unique and delicious recipe to bring as an appetizer to your next holiday party? These simple lamb meatballs can be made within any of your Caliber Appliances. Lamb is a juicy, underrated meat full of health benefits (high in protein and iron, and is known to reduce cancer risks, stroke risks, can heal anemia and improves bone health).
Decide which Caliber Appliance you would like to cook on: grill, smoker or oven, and then you are ready to start. Preheat oven or grill to 375ºF. Mix lamb, garlic, shallots, jalapeño, mint, soy sauce and black pepper together. Roll meat into 2 inch diameter round balls. As they are made, place the meatballs in an oven-proof dish or skillet. Cover with aluminum foil or lid and bake or grill for about 20 minutes or until meatballs are cooked all the way through. This recipe serves about four people as an entrée or makes a great appetizer to serve at a party.
Ingredients:
1 Pound ground lamb
2 Garlic cloves, minced
1 Shallot, minced
1 Tbsp diced jalapeño pepper
2 Tbsp chopped fresh mint
1 Tbsp soy sauce
1/2 Tsp black pepper
For more recipes join Caliber Culinary Corner's monthly e-news